Environmental Education
Education is a priority for Waste Management and Alliance Landfill. We believe in and support lifelong learning. Alliance Landfill's tours, environmental education programs and presentations are offered throughout the year for people of all ages. Education is the key to understanding. By working together, we can promote a better environment.
Below are the current programs and materials available through the Alliance Landfill.
Landfill Tours (all ages)
Site tours are very popular with students, teachers, neighbors and community members who want a real-life look at modern waste management. For teachers the landfill can serve as a classroom in the community. Both the educational and general community at the local, state and national levels have recognized the merit of Waste Management's business and education partnership program. Its success is attributed to the high level of commitment by all parties involved and sharing the common goal of promoting education.
Exhibits and educational displays are included in special events throughout the year. Thousands of students have toured Alliance Landfill and learned about the many facets of managing today's waste stream. The tours discuss the creation of waste, daily landfill operations, and environmental protection systems, and correlate with the Pennsylvania Department of Education Standards for Environment and Ecology.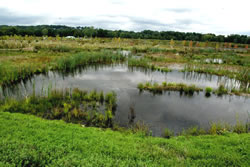 There's a lot more to learn about the environment and ecology at Alliance than waste disposal. Our Sawmill Creek Project is a wonderful illustration of conservation and the potential of mine reclamation. Our Duryea Wetlands is growing into an important sanctuary for migratory birds and one day will be an outdoor classroom for students of all ages in Lackawanna, Luzerne and other nearby counties.
To find out more about the facility tour or to schedule a visit, contact John Hambrose at 570-562-1600 ext. 244.
Other Support for Education
Alliance is proud of its record of supporting student activities and projects in our community. WM has a history of providing grants and scholarships that support education and the future leaders of our community. Each year Alliance Landfill provides three $1,000 Big 33 Scholarship to graduates who live in the Old Forge, Riverside and Abington Heights school districts.
See the Big 33 Scholarship Foundation Website for more information.